Skillion roof shelters a vital park of $20 million project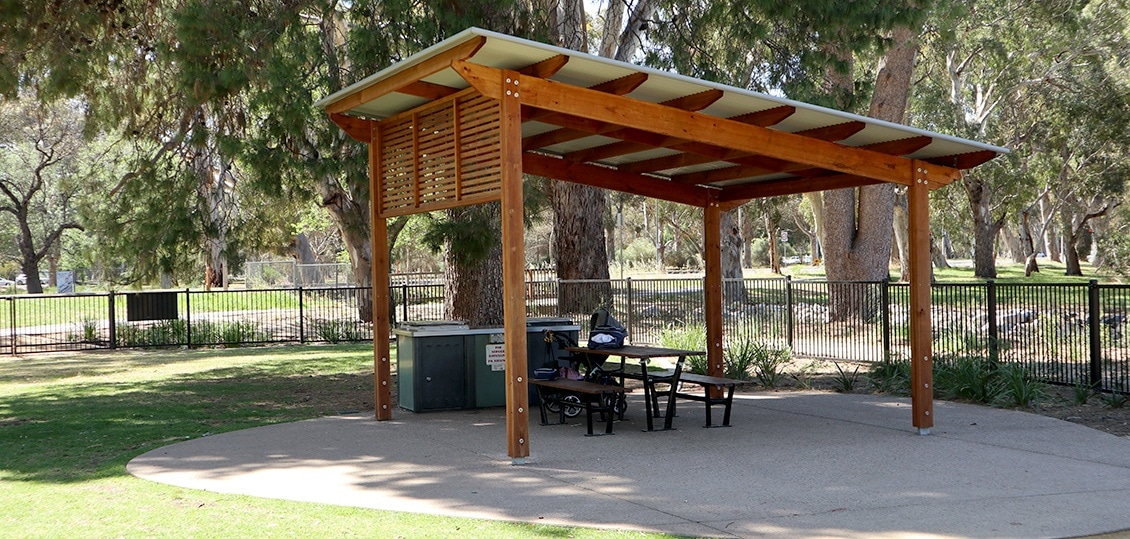 The rejuvenated parkland in Adelaide's south-east inspire and delight.
With the first stage of the $20 million project completed, Pityarilla Park, commonly known as Marshmallow Park, is now an even bigger drawcard for everyone who loves the great outdoors.
Eight Peninsula Park Shelters supplied by Landmark Products (through distributor RWA products), in three separate locations within the park, are vital.
Two 5×5 metre Peninsula shelters in the "Play Space" provide shade for parents and children who visit. Another four Peninsula shelters are in the two dog parks – two each in the small dog and larger dog parks.
There is another Peninsula for the tennis court and one in another location, complete with park BBQ, picnic setting and public art.
Each of the shelters are secured with inground pine posts, finished with standard stain, and were delivered in kit form, flat-packed.
Deputy Premier John Rau said that the ongoing rejuvenation project is about turning one of the city's key assets into a modern and welcoming park.*
"The revitalised Marshmallow Park will inspire a great sense of community and demonstrate the enormous potential in our unique parklands," Mr Rau said.
"Ensuring our parklands are developed in a way that meets the recreational and lifestyle needs of a growing population."
Adelaide's Lord Mayor Martin Haese said the park upgrade had been identified as a priority by Adelaide Park Lands Authority and envisaged it to be well-used by the community.
"There's truly something for everyone — from nature play, to improved paths, to community courts for those wanting to be active," Mr Haese said.
"There's a dog park, barbecues and shelters where people can get together and socialise, and a plaza with space for a pop-up cafe or kiosk for those wanting to relax and enjoy the park."
* From: www.news.com.au