Steel I-Beam structure official opens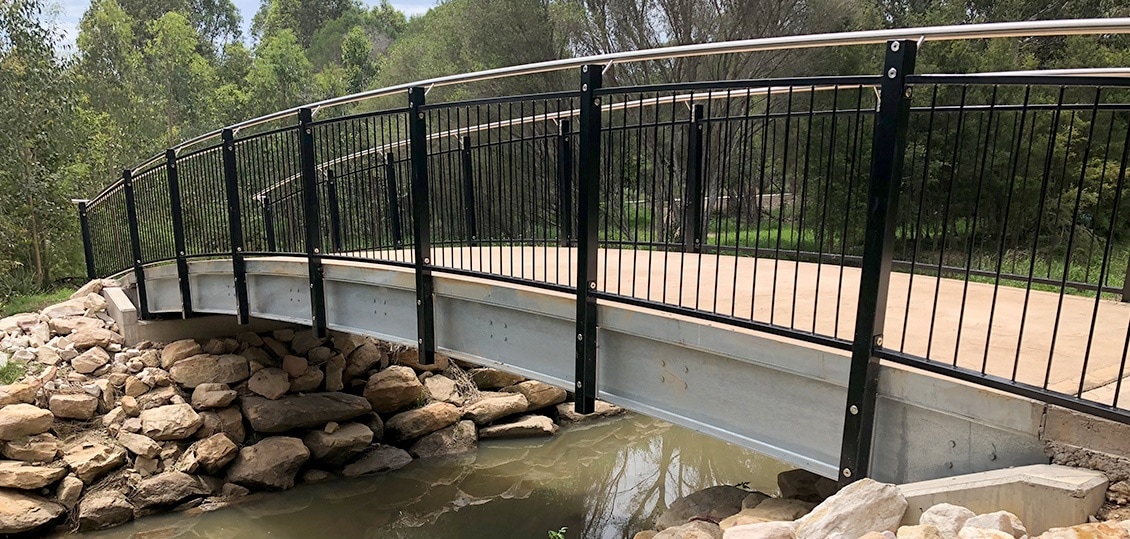 Cyclists in the Hills district of Sydney can ride with confidence as the travel through the recently revitalized Caddies Creek Reserve.
The curved I-beam bridge built and installed by Landmark Products is one of several new pedestrian bridges in the area and features a concrete deck that seamlessly connects with the bike/pedestrian pathway. There are no bumpy rides from timber decking or uneven connections between the bridge and the abutment.
The Condamine bridge, over Strangers Creek, connects Samantha Riley Drive and Phoenix Avenue, and is part of a much wider redevelopment including a range of play equipment, family-friendly facilities and more than two kilometres of pedestrian/cycle paths incorporating three other bridges.
Stage one was opened in August by Mayor of Hills Shire, Dr Michelle Byrne, Local Member for Castle Hill, Ray Williams MP, and Property Portfolio Manager at Sydney Water, Grant May.
Mr May said Sydney Water was proud of the progress that had been made to transform the land into a recreational destination.
"We are pleased to be partnering with The Hills Shire Council to enable some exciting recreational opportunities for local residents," Mr May said.
"While accommodating these new facilities the project also reflects Sydney Water's core responsibilities to protect people and property from flooding and to protect and improve the health of our local waterways."
The works have incorporated major environmental initiatives, including water recycling and environmental restoration such as the removal of weeds and planting of approximately 10,000 new native trees, shrubs and groundcovers.
The project was made possible after Council and Sydney Water entered into a long-term lease agreement, which would see Sydney Water owned land developed for sporting and recreational use for residents.