Gympie Regional Council engaged Landmark Products to design, manufacture and install an affordable and adaptable change room facility to respond to growing sport/recreational demands and to cater for the needs of both males and females at One Mile Ovals.
The K8104 Sports & Recreation Female Friendly Facility includes:
Design and drafting service
Prefabricated and kit form engineered solution
23.6m x 8.8m on-slab amenity
Installation and project management service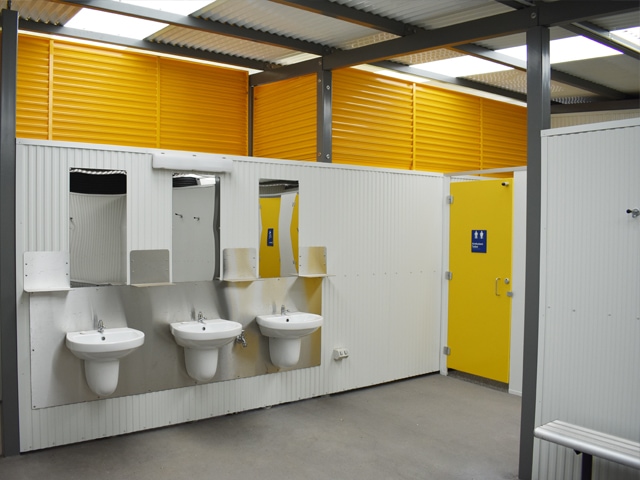 Landmark's design team worked with council to deliver a building design to withstand and respond to periodic flooding including:
Durable materials
Fast and effective post flood clean-up
Flood water escape
Removable hydraulic services and hot water system at short notice
These facilities feature private showers and will deliver the capacity needed for clubs in order to welcome more and more female teams.
K8104 Female Friendly Facility (Two Change Rooms)
Landmark Products offers a complete, professional open space structure and furniture service throughout Australia and abroad.
From design through to manufacturing and installation, Landmark Products can deliver a total project solution. With over 30 years' experience, and a team of highly skilful, expert specialists in public use infrastructure, Landmark is committed to exceeding the expectations of our clients, whether for a relatively straightforward project through to complex, large scale, custom built projects.
WHY CHOOSE LANDMARK?
Landmark is one of the only companies in Australia that offers a full-service package, from design and manufacture to delivery and installation. Its products have an extended structural warranty for 20 years if installed by Landmark, giving you peace of mind when you purchase with us.
Landmark understands the demands placed on public-use products and has thus designed and constructed solutions that are built for long-life from quality materials. Landmark has Australia's largest range of standard open space structures and park furniture, available for almost every specification. Each product is engineered and manufactured to suit individual site specifications that match the location, environment, application and budget.
Landmark is renowned for its prompt and effective service, from the first enquiry right through to project completion. The customer service staff and project consultants are experts in their field and will guide you step-by-step throughout the process.
Landmark structures arrive flat-packed and ready to be assembled with no onsite fabrication needed. Kit-form structures greatly minimise the waste, noise and public and environmental disturbance to the area, and are much quicker to install.
Landmark Products offer two levels of limited structural warranty on its products:
Landmark's 10-year warranty applies to restrooms/shelters supplied by the company but installed by others
Landmarks 20-year warranty applies to restrooms/shelters that are supplied by Landmark and installed by Landmark, or a Landmark-approved installation company