Restroom "skin" is a shout to the past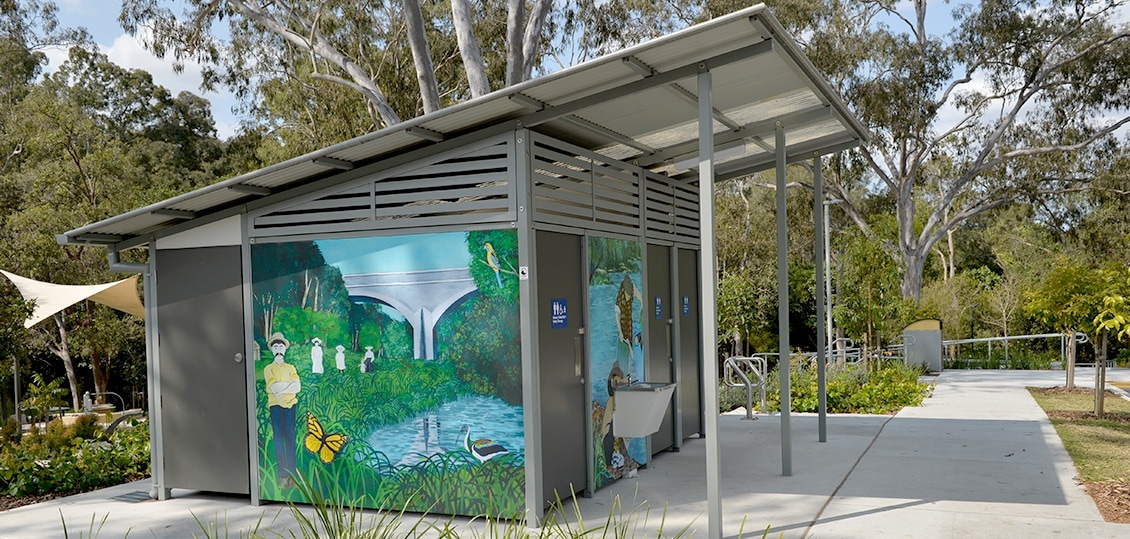 The challenge of updating the Walton Bridge reserve was to balance the need to upgrade aging facilities with the prevailing sentiment of many residents to leave the reserve in its existing state.
Such was the sentiment, that some residents of the leafy Brisbane suburb 10 km east of the CBD, started a petition to stop the upgrade.
Through discussion and cooperation, solutions were found, one being the "skinning" of the new restroom facilities supplied by Landmark.
The three cubicle skillion roof Caretaker bares the same "community mural" which was painted directly on the previous brick structure, now demolished. This mural was photographed, transferred to a vinyl wrap, and applied to the 12mm fibre-cement external wall cladding of the new Landmark facility.
The intention was to retain the park's previous "look and feel". The park upgrade also included boardwalk view decks, a new adventure playground and new picnic shelters.
The Caretaker restroom (K9505) has roofline dimensions of 5.3 m x 5.7 m, two unisex ambulant cubicles, one disabled cubicle and a service duct. Internal walls feature dimpled stainless steel which allows easy cleaning.
Landmark manufactured and installed the restroom, including all fit-out items in the cubicles.
The result is a modern, easy-to-clean restroom which harkens back to the previous generation, and which will be used heavily by visitors to this popular park.