Request
Product Brochure
Fill in your details and we will email you our brochure for this product.
Caretaker Series
A robust, low maintenance all-steel restroom, offering options in roofing style, and a modern aesthetic complementary to any park or urban space.
The Materials
Steel posts with steel roof frame
Colorbond® XRW Grade steel internal and external wall sheeting and roofing
Polycarbonate roof sheeting (natural lighting)
Timber ventilation screens
Steel clad doors
Finishes
Hot-dipped galvanised posts and roof frames
or
Hot-dipped galvanised and powder-coated steel posts and roof frame
Fixings
Bolt-below slab posts
Stainless steel anti-vandal fastening system
Door closer
Door indicator bolts
Stainless steel push pull plates
Access signage
See Downloads for cubicle standard inclusions and options.
Other Options
Materials
Internal/External wall sheeting
Colorbond® Ultra Grade internal and external wall sheeting and roofing
Structural rating upgrade beyond N3 (W41)
Standard size variations
Finishes
Two-pack epoxy paint for steel
Aluminium ventilation and privacy screens
Fixings
Urinals
Shower and change room facilities
Security options to restrict usage times
Drawings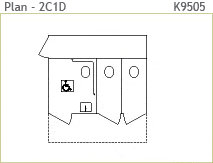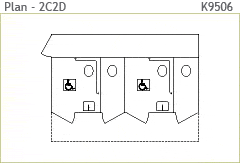 CAD & Preliminary Drawings
To get access to CAD drawings please fill in your details below.