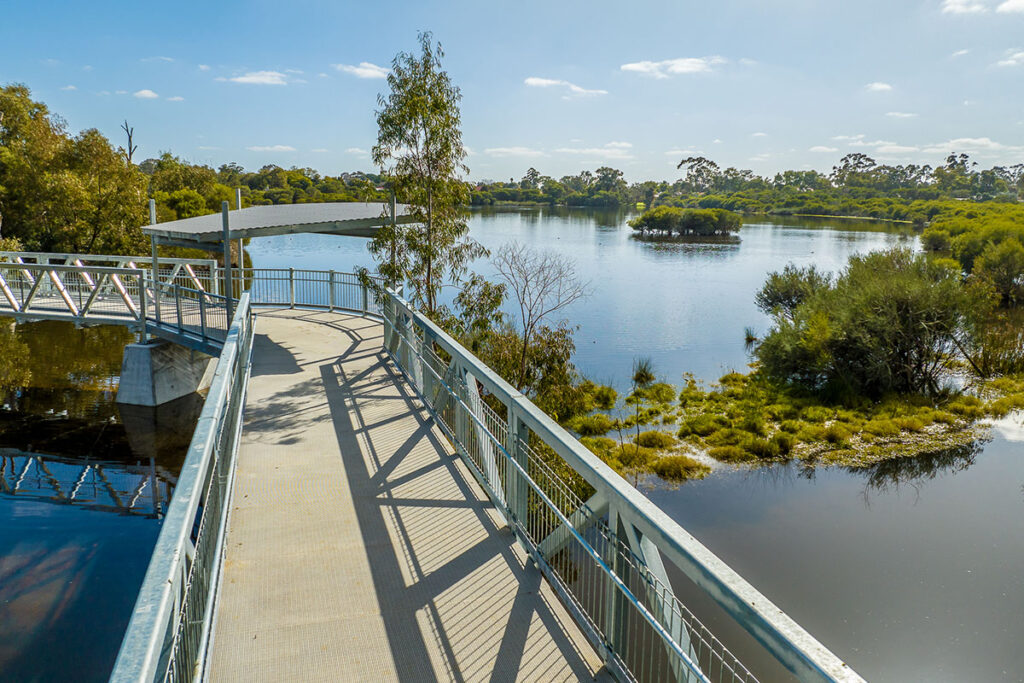 Customer: City of Gosnells, WA
Designer: Landmark Products
Products: 1 x Changing Places facility, 4 x Custom Murray Bridges, 1 x Custom Bridge Viewing Platform and 1 x Custom Skillion Shelter
Location: Mary Carroll Park, Gosnells, WA
Background
Mary Carroll Park is a Conservation Category Wetland and Bush Forever Site. It's recognised internationally as an important refuge for migratory birds, providing habitat for feeding, roosting and nesting for various species, and is listed as a 'must see' by Birdlife Australia. There are 12 water bird species known to breed in these wetlands and 35 species known to take advantage of the wetlands.

The vision of the City of Gosnells was to see Mary Carroll Park recognised as an important environmental asset and an extraordinary place for the community to live, students to learn and visitors to experience.

To achieve this, the City approved a number of upgrades including the installation of new bridges and a view platform, a new Changing Places facility, accessible toilets and storage, and more.
Solution
Landmark Products designed and manufactured four Custom Murray Bridges, a Custom Bridge Viewing Platform and a Custom Skillion Shelter which were installed in the wetlands of Mary Carroll Park.
The bridges and viewing platform form a connected loop around the small islands within the site, creating an immersive nature-based experience for park visitors.
Landmark Products also designed and manufactured a Changing Places Restroom which was installed at the site.

Changing Places provides suitable facilities for people who cannot use standard accessible toilets and allows people with high needs to fully participate in the community, including those with acquired brain injuries, spinal cord injuries, cerebral palsy, multiple sclerosis, spina bifida, motor neurone disease, as well as many other people with a disability.

Challenges

The site was a highly environmentally sensitive area and disturbance had to be kept to a minimum. As it comprised of wetlands, it was subject to flooding and high groundwater levels. Severe weather events also delayed construction at the site.

– Earthworks were undertaken towards the end of summer when the site was dry and the groundwater level near its seasonal low
– This provision ensured the site was accessible and minimised disturbance to the wetland
– Native trees could not be damaged or removed
– 12.2m x 6.675m Concrete Cassion supports for the viewing platform structure were specifically designed due to the soil condition and the underground wetland water barrier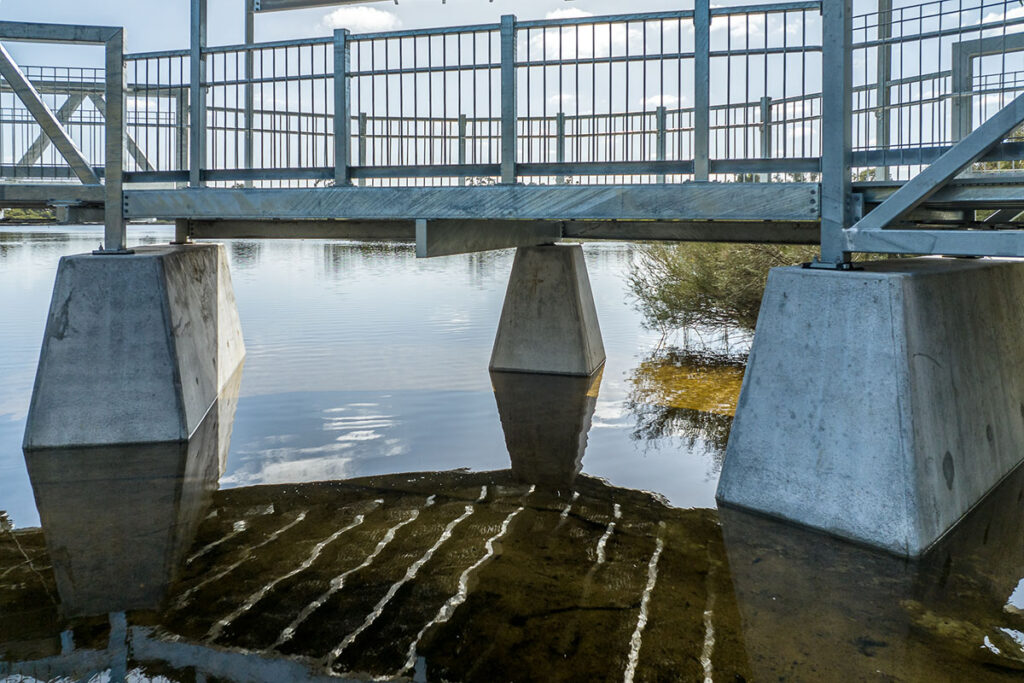 Material features of the Custom Murray Bridges
External aluminium weatherboard cladding
Aluminium composite internal wall cladding
Cooldek roofing with polycarbonate skylight
Stainless steel-clad doors
All materials provide durability in a harsh, coastal environment.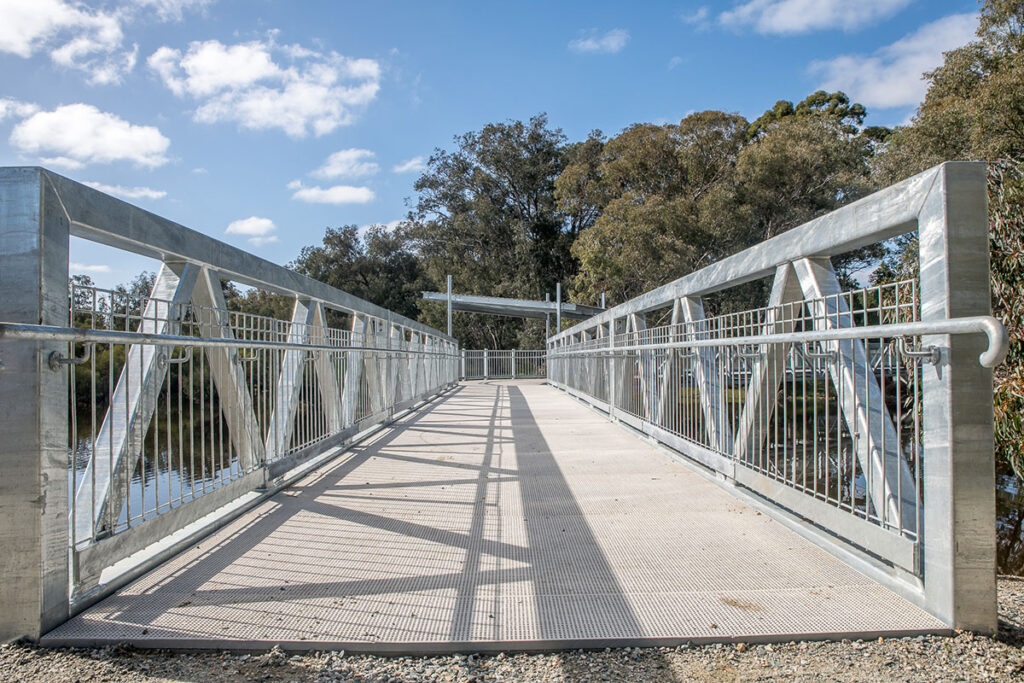 Material features of the Custom Bridge Viewing Platform
8.6m x 6m Custom Bridge Viewing Platform
2.5m clear width access
HDG steel bearers
Joists and steel baluster panels
HDG steel kick rails and grab rails
Designed to 5kpa with an open grid FRP deck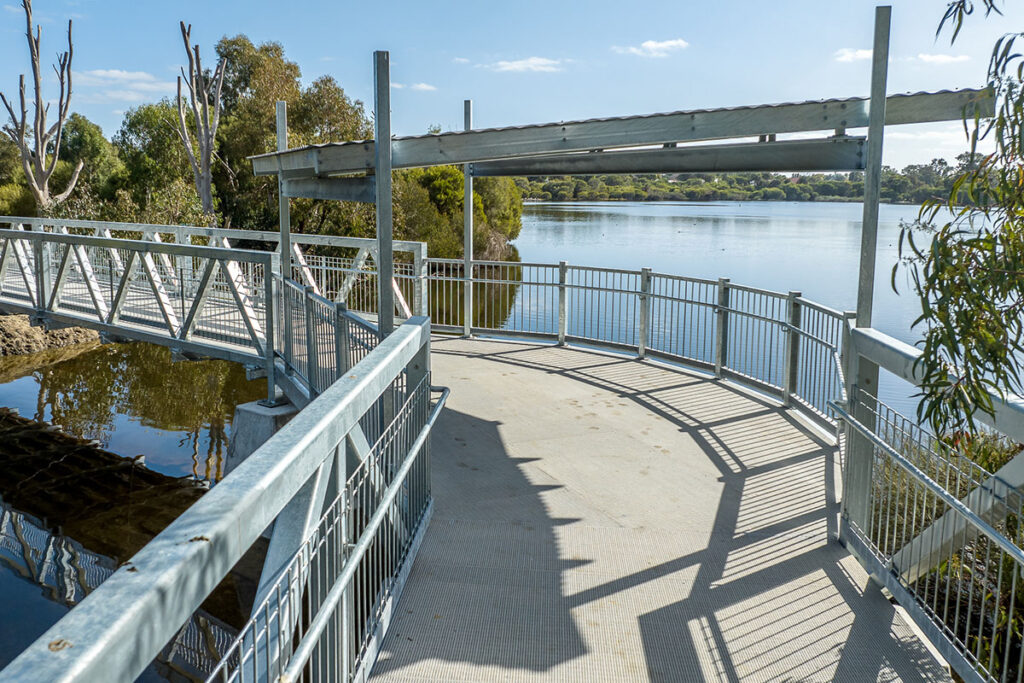 Material features of the Custom Skillion Roof
Changing Places features
A automated remote control operated height-adjustable adult-sized change table
A constant-charging ceiling track hoist system
A centrally-located peninsula toilet
Circulation spaces as defined in the design specifications
An automatic door with a clear opening of 950 mm at a minimum
Unisex Changing Places accessible cubicle (Type 2) with a shower
Unisex accessible cubicle
Unisex ambulant cubicle
Storage room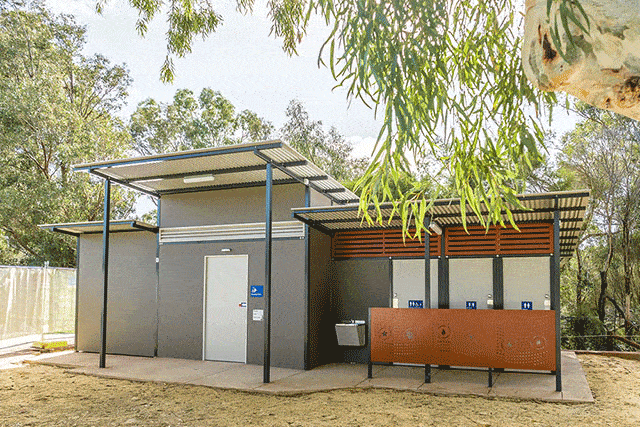 All materials used provide strength, durability and longevity within the sensitive wetland environment.
Testimonials
"The Mary Carroll Park Upgrade was an extensive and complex project due to the site's environmental sensitivity and various challenges along the way, including severe tropical cyclones which impacted construction and installation.

Initial design and community consultation took place back in 2013 and the tender was awarded in 2020. Landmark Products completed manufacturing in 2022 but due to the weather conditions and high-water levels, construction was pushed back to February 2023.

We're incredibly pleased to complete this project for the local community and visitors to the park, who I'm sure will enjoy it for years to come."
– Landmark Products WA Project Consultant, Adel Young
WHY CHOOSE LANDMARK?
Landmark is one of the only companies in Australia that offers a full-service package, from design and manufacture to delivery and installation. Its products have an extended structural warranty for 20 years if installed by Landmark, giving you peace of mind when you purchase with us.
Landmark understands the demands placed on public-use products and has thus designed and constructed solutions that are built for long-life from quality materials. Landmark has Australia's largest range of standard open space structures and park furniture, available for almost every specification. Each product is engineered and manufactured to suit individual site specifications that match the location, environment, application and budget.
Landmark is renowned for its prompt and effective service, from the first enquiry right through to project completion. The customer service staff and project consultants are experts in their field and will guide you step-by-step throughout the process.
Landmark structures arrive flat-packed and ready to be assembled with no onsite fabrication needed. Kit-form structures greatly minimise the waste, noise and public and environmental disturbance to the area, and are much quicker to install.
Landmark Products offer two levels of limited structural warranty on its products:
Landmark's 10-year warranty applies to restrooms/shelters supplied by the company but installed by others
Landmarks 20-year warranty applies to restrooms/shelters that are supplied by Landmark and installed by Landmark, or a Landmark-approved installation company