Landmark Products designed / manufactured / installed our first K9800 "Fremantle Series" Aluminium Restroom (Modified). The new amenities at Robinson Reserve, Anna Bay NSW are to replace the older restrooms at Ocean Avenue Reserve, Anna Bay NSW and are part of an overall park upgrade beach car park reconfiguration.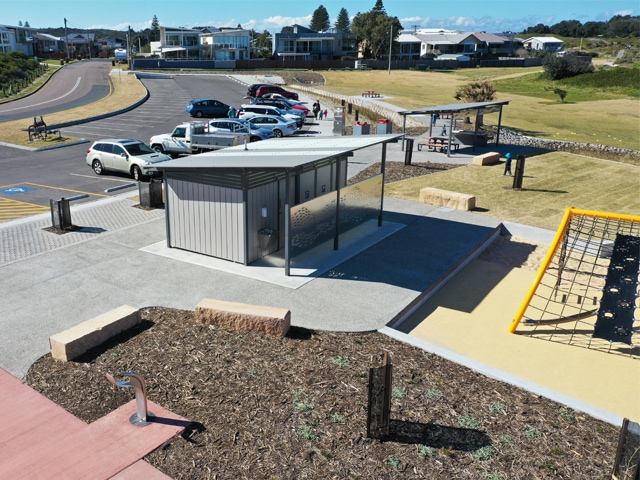 Features
Pre-cut Colorbond, custom orb roof sheeting – .42 Bmt 'Ultra' grade
Webglas roof sheeting for natural lighting
Powder coated aluminum roof frame, posts and ventilation screens
Aluminum wall frames
205mm Shadowline weatherboard vertical external wall cladding
Aluminum composite material internal wall cladding
Landmark Products' stainless steel anti-vandal fastening system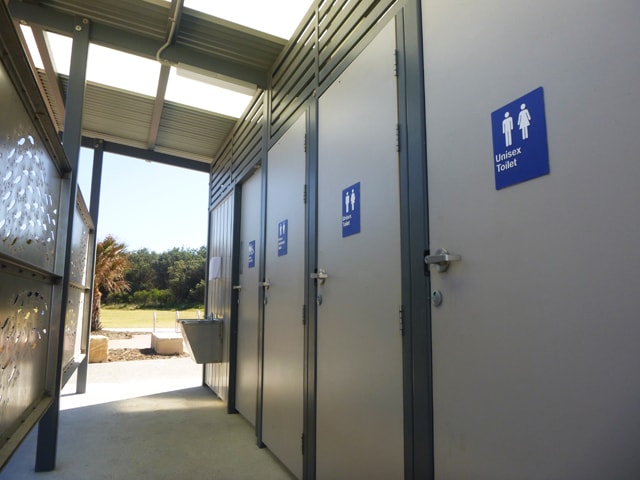 Benefits
The new amenities service more patrons than the previous masonry construction and is an adequately robust construction for the location given the high wind, high salt spray and ocean weather from the prevailing conditions at Robinson Reserve
Landmark worked both directly and indirectly with Port Stephens Council with seamless ordering and providing a very good experience with both the pre-construction phase and the end product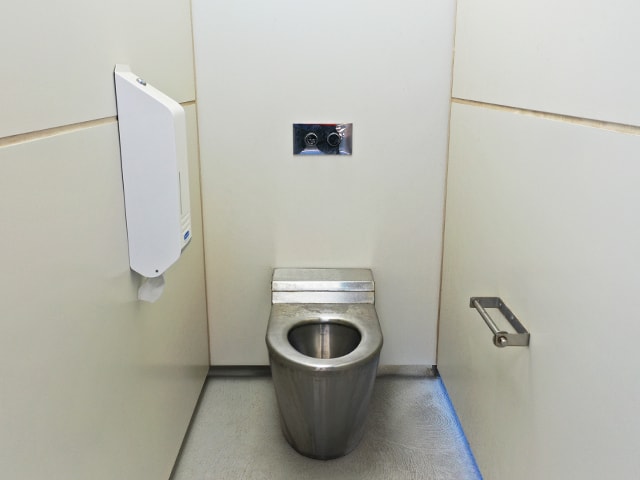 Fremantle Series
Landmark Products offers a complete, professional open space structure and furniture service throughout Australia and abroad.
From design through to manufacturing and installation, Landmark Products can deliver a total project solution.
With over 30 years' experience, and a team of highly skilful, expert specialists in public use infrastructure, Landmark is committed to exceeding the expectations of our clients, whether for a relatively straightforward project through to complex, large scale, custom built projects.
WHY CHOOSE LANDMARK?
Landmark is one of the only companies in Australia that offers a full-service package, from design and manufacture to delivery and installation. Its products have an extended structural warranty for 20 years if installed by Landmark, giving you peace of mind when you purchase with us.
Landmark understands the demands placed on public-use products and has thus designed and constructed solutions that are built for long-life from quality materials. Landmark has Australia's largest range of standard open space structures and park furniture, available for almost every specification. Each product is engineered and manufactured to suit individual site specifications that match the location, environment, application and budget.
Landmark is renowned for its prompt and effective service, from the first enquiry right through to project completion. The customer service staff and project consultants are experts in their field and will guide you step-by-step throughout the process.
Landmark structures arrive flat-packed and ready to be assembled with no onsite fabrication needed. Kit-form structures greatly minimise the waste, noise and public and environmental disturbance to the area, and are much quicker to install.
Landmark Products offer two levels of limited structural warranty on its products:
Landmark's 10-year warranty applies to restrooms/shelters supplied by the company but installed by others
Landmarks 20-year warranty applies to restrooms/shelters that are supplied by Landmark and installed by Landmark, or a Landmark-approved installation company