Request
Product Brochure
Fill in your details and we will email you our brochure for this product.
Fremantle Series
Every material, component and finish in the Fremantle Series is chosen for its hard wearing qualities, making it ideal for harsh coastal environments.
Materials
Mill finish aluminium wall frames
Aluminium roof frame and posts
Pre-cut Colorbond® custom orb roof sheeting – Ultra Grade
Webglas roof sheeting (natural lighting)
Aluminium ventilation screens
Ultraclad weatherboard aluminium external wall cladding
Aluminium composite panel internal wall cladding
Finishes
Powder-coated roof frame, posts and ventilated screens
Fixings
Ultra grade Colorbond® steel clad hollow core cubicle doors with standard door closers, push/pull handles and indicator locks only
Ultra grade Colorbond® steel clad hollow core service duct door with a dead lock
Landmark products stainless steel anti-vandal fastening system
All remaining fixings are stainless steel
Other Options
Materials
Structural rating upgrade beyond N3 (W41)
Standard size variations
Finishes
Fixings
Automatic doors
Urinals
Shower and change room facilities
Security options to restrict usage times
Drawings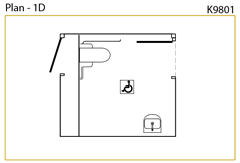 CAD & Preliminary Drawings
To get access to CAD drawings please fill in your details below.
Video