Landmark's boardwalk adds access with style at UQ
Landmark Products supplied over 40 metres of boardwalk, as part of University of Queensland's $24 million redevelopment of its sporting facility.
Three sections of Landmark's Timaru Series (K1160) boardwalk were supplied and installed at the new facility, with two sections under the southern synthetic sports field.
The natural finish of the three timber boardwalks (21 metres, 14 metres and 5.2 metres long respectively) compliment the Australian native landscaping beautifully.
With the boardwalk being delivered flat-packed with installation instructions, landscapers working on site built the structure quickly and easily.
Two sections were built with two metres clear width, with one being 2.5 metres, all with hardwood kick rails, and designed for 3 kpa loading and to be placed on concrete abutments. The decking was all hardwood that was pre-treated with ACQ and Cutek CD50 double strength to create a long life cycle.
Two multi-use synthetic sporting fields are the feature of the new facilities, with Landmark's boardwalks being installed within the underground carparks, and to the precinct's south, to become known as "New UQ Link".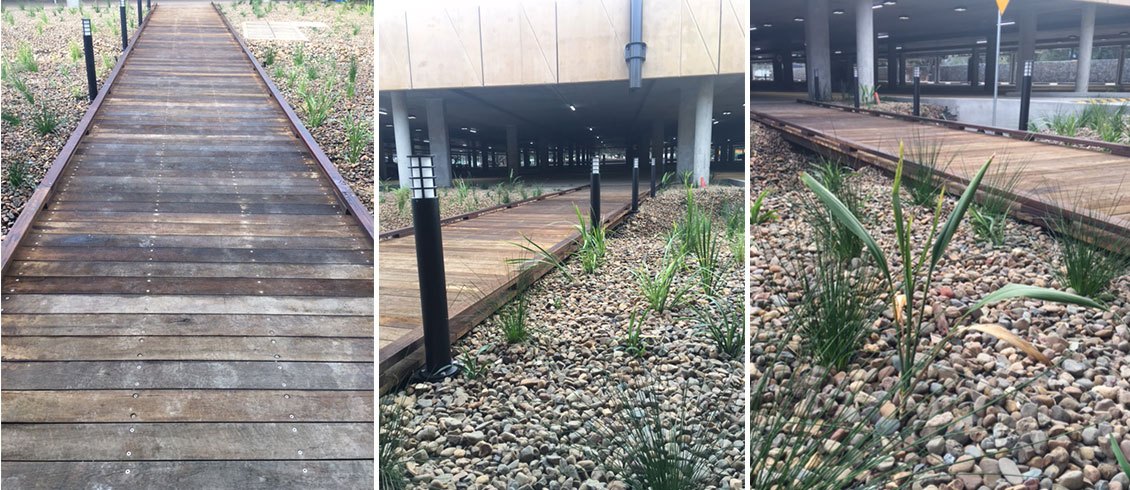 Sam Lock, Project Manager of Glascott Landscape and Civil, who worked on the project said:
"The boardwalks provided a great alternative pedestrian route within the project. Landmark was involved from design concept through to manufacturing ensuring the final product achieved the project requirements. The timber was manufactured to size which simplified the installation of the boardwalks by minimising the work on site."