Making restrooms more accessible for people with limited vision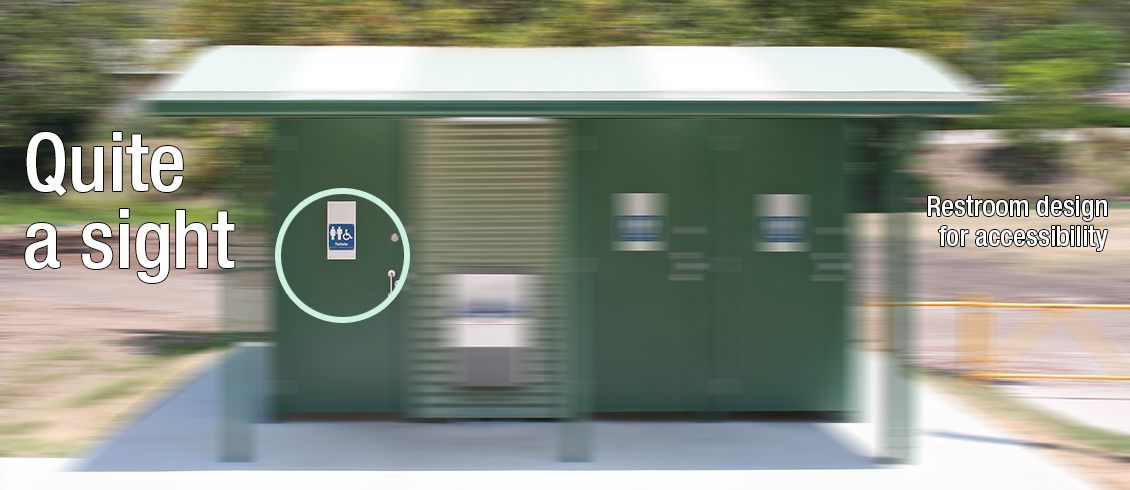 Not everyone enjoys good eyesight. There are numerous design aspects in today's restrooms, many inconspicuous or unnoticed, that make life much easier for people with limited vision.
Take for example, the colour of doors.
Many of today's restrooms are bright, colourful and edgy however, the motivation for colour choice often extends further than style.
Colour contrast
For many people in Australia who are vision impaired, the contrast of door colour to the frame and surrounding panels is critically important for finding the restroom's entry points.
Access buildings codes call for a minimum 30% luminance contrast between door leaf and its surrounds. (See below for a guide to determining contrast between colours).
Door handles
Once finding the door, the next challenge for people with limited vision are door handles.
Access building codes address the location of door handles, the type of handle and clearance in and around the handle.
Lever-type handles are preferable to round door knobs, or even more difficult to find, recessed handles common in sliding doors.
There also needs to be clearance between door handles on sliding doors and door jambs to avoid injury to hands knuckles.
Tactile Ground Surface
Tactile Ground Surface Indicators (TGSIs) are a common sight in public spaces around Australia.
They are typically located before step hazards, such as entries into restrooms, sending a message to people who are visually impaired to prepare. Access building codes stimulate size, location and luminance contrast of TGSIs.
There are many other aspects of building design, not mentioned here, that are covered by Access Building Codes.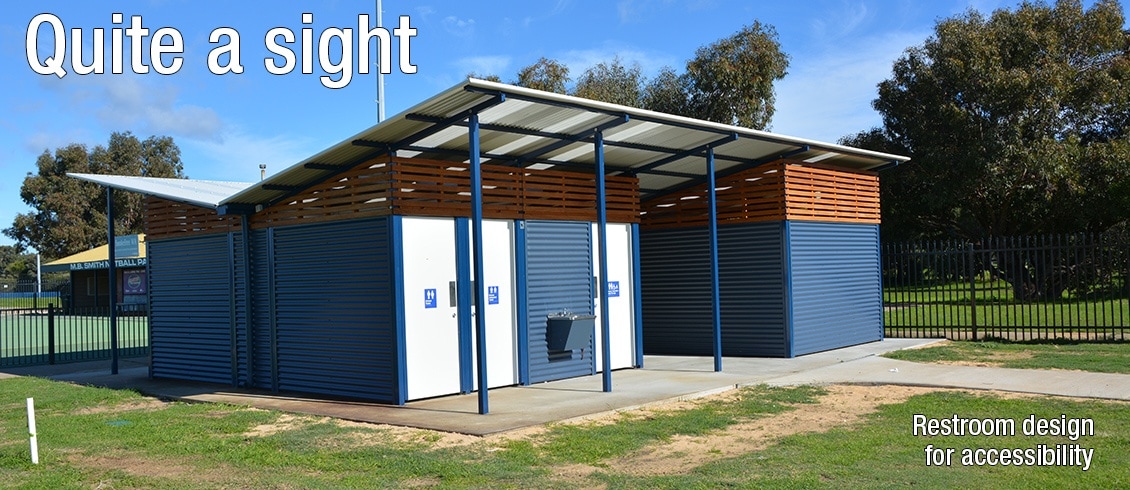 With about 300,000 people in Australia who are either blind or vision impaired (which cannot be corrected by wearing glasses or contact lenses), it is critically important to ensure that built environments are designed to assist and support these members of our communities.
Landmark Products are specialists in designing, building and installing restrooms that meet all building codes that relate to Access for People with Disability.
A great resource for those seeking further information about design and construction for access is "The Good, the Bad and the Ugly", a publication made available by the Australian Human Rights Commission. Click here.
Luminance online calculator
Whether a set of colours is suitable is easily calculated using an online calculator available here:

Simply type in LRVs (luminance reflected value) for two colours into the boxes provided, and the percentage is supplied.