Request
Product Brochure
Fill in your details and we will email you our brochure for this product.
Goulburn Series
Six-sided gazebo roof park shelters are the definitive choice for creating gathering points for any community or venues for marriages or other special events.
Materials
Pine, hardwood or steel posts with pine roof frame
Colorbond© XRW Roofing or Ultra Grade roofing
Finishes
Powder coating or two-pack epoxy paint for steel posts and roof frame
Thermoplastic coating (steel leg brackets)
Timber colour stain for pine and hardwood
Painted colour for pine
Fixings
Galvanised brackets
Galvanised or stainless steel fixings (roof screws galvanised)
In-ground or bolt-down posts
Gutters and down-pipes to match roof type
Other options
Cupolas and/or finials
Pin, steel or aluminium balusters and frieze panels
Structural rating upgrades beyond N3 (W41)
Standard size variations
Drawings
K201
K202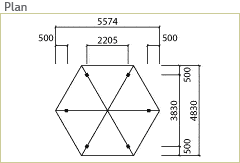 K203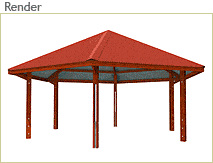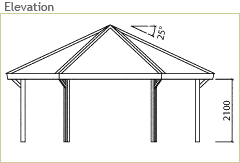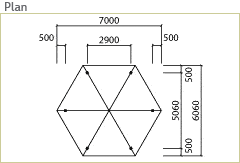 CAD & Preliminary Drawings
To get access to CAD drawings please fill in your details below.