Landmark Products is proud to launch the Furphy Aqua-Hub with Touch-Free Sensors as part of a cleaner and healthier future from Furphy Foundry and next generation of their innovative Furphy Aqua-Hub Drinking Fountains. Their Touch-Free Aqua-Hub comes with built-in sensors to activate the Bubbler, Bottle Filler or Pet Drinking Panel – to provide a more hygienic experience.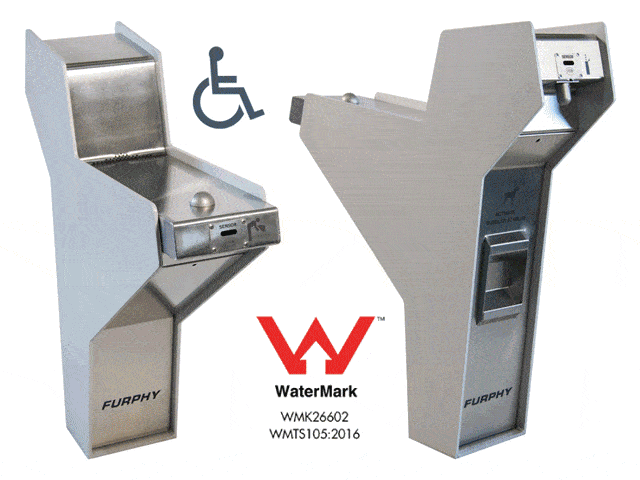 Features & Benefits
Sensors that provide Touch-Free access to activate Bubbler, Bottle Filler and Pet Drinking Panel (improves hygiene with fresh running water)

Available for all Standard and DDA Compliant (Wheelchair Accessible) contemporary and functional configurations to compliment public spaces
Created to encourage clean and hygienic public environments
Robust steel structure and stainless steel componentry for long life community use
Laser etched symbols and optional council/park logos that won't wash or fade
In-ground assembly kit and instructions for easy installation provided
WaterMark certified (WMK26602, WMTS105:2016) to ensure all plumbing componentry complies with state and territory plumbing codes
Standard powder coat colour range (Black, Silver, Mistletoe, Blaze Blue and Flame Red) with additional powder coat colours available on request – galvanised / stainless options for coastal applications.
We are now manufacturing our full range of products using a Clean Energy Source, made possible with the installation of solar panels across its various plants in Shepparton, Victoria.
Check out our brochure and/or product page for more information.
Furphy Aqua-Hub Drinking Fountain (Touch-Free with Sensors)