Dynamic colours with weather resistance
For those designing open space structures, seeking a creative, colourful point of difference, ACM is like clay to a potter.
Its qualities make it the most versatile material for adding flourishes of pizzazz that can lift an otherwise ordinary structure such as a restroom, to a level of artistry.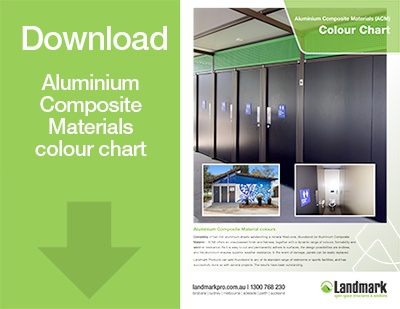 Landmark Products can add ACM to any of its standard range of restrooms or sports facilities, and has successfully done so with several projects. The results have been outstanding.
Consisting of two thin aluminium sheets sandwiching a mineral filled core, ACM (Aluminium Composite Material) offers an unsurpassed finish and flatness, together with a dynamic range of colours, formability and weather resistance.
As it is easy to cut and permanently adhere to surfaces, the design possibilities are endless, and the aluminium ensures superior weather resistance. In the event of damage, panels can be easily replaced.
When the City of Cockburn council designed the upgrade of Bibra Lakes Playgrounds near Perth, creativity was front of mind.
Landmark came to the party, and designed a restroom that fit perfectly between the amazing sculptures of giant long neck tortoises, dragonflies and butterflies that feature at the park.
ACM was used on all external walls at Bibra Lakes, with colourful vinyl wraps brightening the final finish.
The restroom Landmark designed and built for Logan City is another example of ACM adding a superb finish. In this case, exterior and internal walls were finished with ACM, with the external walls giving the restroom at Beenleigh Town Centre a smart matt finish.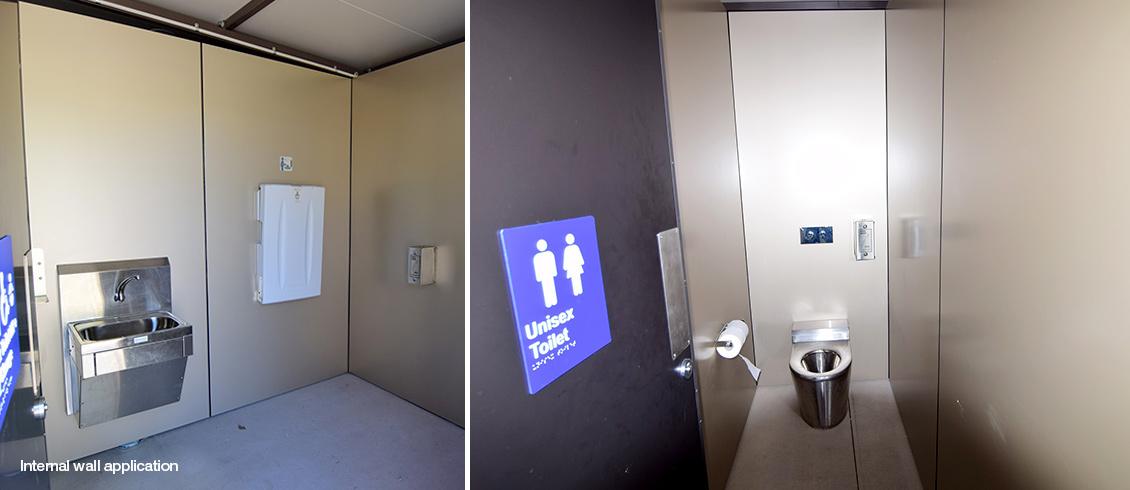 IMPORTANT POINT
ACM used by Landmark is non-combustible and has been thoroughly tested to the Australian Standards by NATA approved CSIRO and Warrington Fire including full room burn tests.
The core contains a high percentage of non-combustible mineral leading to a high level of fire resistance. The panel does not contribute to the spread fo flame and has minimal smoke development.
Many similar products sold overseas do not comply to these standards.