Request
Product Brochure
Fill in your details and we will email you our brochure for this product.
Bathurst Timber Bus Shelter
Ideal for seaside bus stops, and with a heritage appeal.
Materials
Pine or hardwood posts with pine roof frame
Colorbond© XRW or Ultra Grade roofing
Finishes
Timber colour stain and painted colour (paint not recommended for hardwood)
Fixings
Galvanised steel brackets and fixings
Inground or bolt-down posts
Other options
Screen infills material variations: tinted polycarbonate, aluminium or perforated steel mesh
Stainless steel brackets and fixings
Structural rating upgrades beyond N3 (W41)
Standard size variations, including extra bays
Seating options
Drawings
K701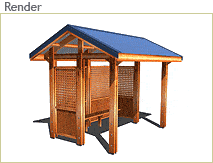 CAD & Preliminary Drawings
To get access to CAD drawings please fill in your details below.