Stylish Staircase fit for purpose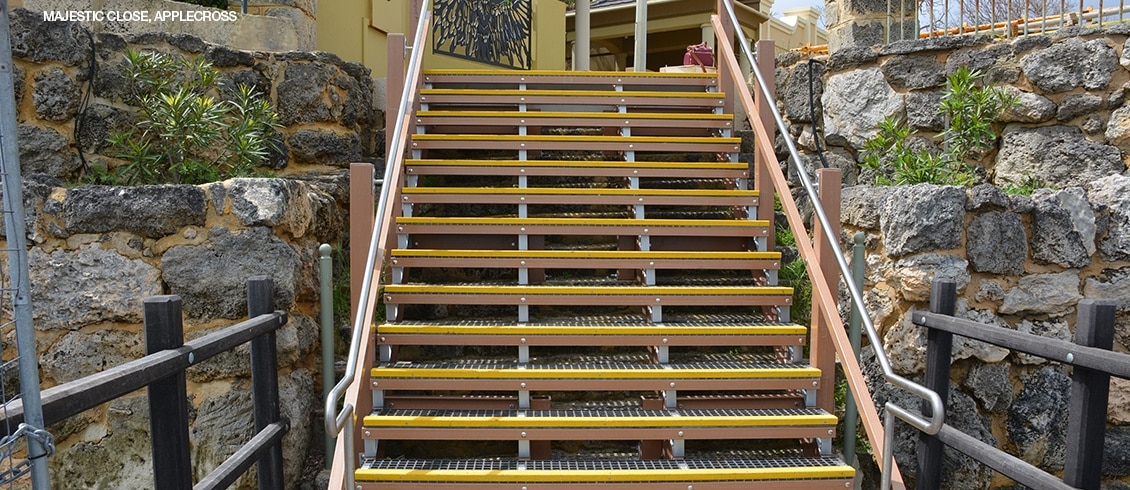 Public staircases aren't usually show pieces. Inconspicuous, yet vital, the risers, handrails and supporting structure represent the quiet achievers of public infrastructure.
Two such staircases, designed, manufactured and installed by Landmark in Western Australia, are safely guiding pedestrians with absolutely no fuss.
So let's make a fuss here.
The staircase in Majestic Close, Applecross, joins the street with the Majestic Boardwalk along the beautiful Swan River.
Except for the stainless-steel handrails, the entire structure consisting of 14 risers, is built with Fibre Reinforced Plastic (FRP) ensuring maximum lifespan for the river front location.
The 19mm open grid tread of the FRP allows debris to fall through, reducing maintenance.
Kadidjinya Park is a four-hectare reserve in the heart of Melville, which attracts many families with its amazing playground, barbecues, large amphitheatre and ample open space.
Landmark built a seven-metre staircase within Kadidjinya Park over an existing sloped concrete pathway, which blends superbly with the surrounds and delivers improved public safety, particularly in wet weather.
Once again FRP is the prominent material used, in this case for the risers, however this two-metre wide staircase also features hardwood posts and landing treads, and galvanised iron handrails.
On weekends, this is a high-volume staircase, facilitating public safety, with little fanfare.
That's what we do.