Popular upgrades that make a park shelter unique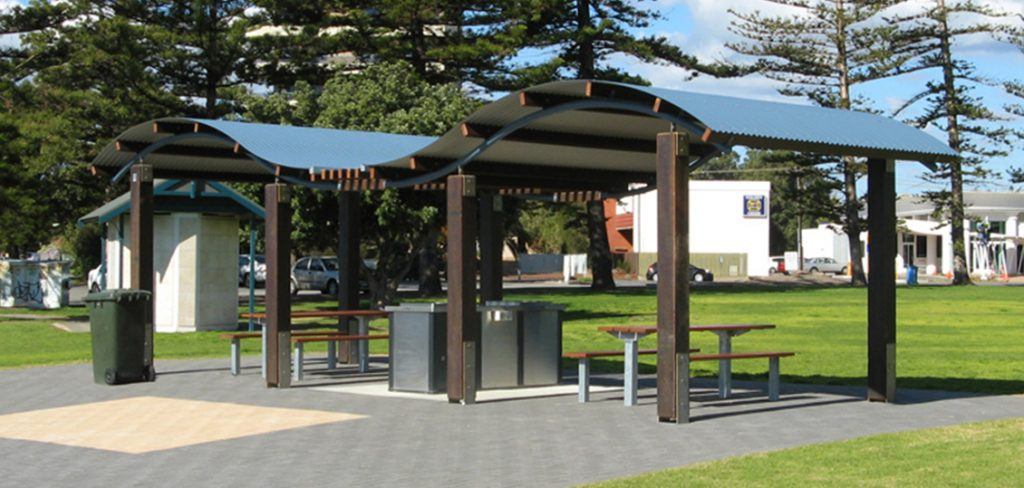 When dining out, it may involve asking for the sauce on the side, or extra bacon. When buying a car, a buyer may ask for roof racks or a special paint job.
Likewise, the possibilities are endless when modifying a park shelter.
Whether it be to give a distinctive look, match a corporate brand or in response to the terrain or the environment, modifications to park shelters take many forms.
Modifying can be as subtle as a dark stain for timber, or as complex as joining two structures together.
On the design continuum, modifying sits between opting for a straight up standard kit and commissioning a completely new design.
In no order, here are eight typical ways to modify a park shelter:
1.Rust effect.
Why would anyone want to apply a paint effect on steel roof frames and posts to make them appear rusty? Besides being an increasingly popular trend in some architectural circles, shelters that have a weathered rusty appearance will present less of a target for vandals, who typically attack surfaces that are clean and new. For this reason, King Shelters with a rust effect are a popular choice for skateboard parks.
2.Thicker hardwood posts.
Nothing speaks of strength and solid appeal like thick timber posts – 200m x 200m or thicker (standard Peninsula shelter posts are 140×135 split leaf). Thick timber posts, nicely stained, give a structure natural appeal with durability. Timber posts on a fully steel shelter add a "warm" aesthetic to an otherwise cold structure.
3.Laser cut roofing.
A modification ideally suited to the cantilevered shelter (King), laser cut panels in a roof an interesting appeal, not only in the structure, but the shadow cast. With the amazing accuracy of laser cut technology today, only your imagination is the limit.
4.Combining shelters together.
To easily increase the sheltered space, combine two or more shelters together. This can be done either side-by-side or end-to-end. Combining two or more wave roof shelters of different but complimentary designs (Byron Series K621, K622, K623 and K624) can be highly appealing and aesthetically suitable for seaside locations or elsewhere.
5.Timber infills on post.
The hard look of steel posts on cantilevered shelters (King) can be softened with timber infills, stained with your choice of tone. Cantilever shelters are the choice if you are looking to maximise the view and accessibility.
6.Wind break walls.
For park goers, there's nothing worse than having your food or drinks blown off the table. In exposed parks, installing a wind break wall, is the answer. Popular designs for a wind wall include hardwood or aluminium slats.
7.Posts protrude beyond roof line.
For no other reason than visual appeal, extending the standard post length so that it extends past the roof can create a unique effect.
8.Mix and match screens.
Add a front screen to a shelter which doesn't normally have a front screen (such as a Cardwell curved roof). Or conversely, remove a screen from a shelter which normally has a screen (such as a Peninsula or Whyalla skillion roof).
If modifications such as these aren't sufficient to meet expectations for creating a unique shelter, Landmark's experienced and creative design team can develop a custom design.