A new community park destination, Bibra Lake Regional Playground in Perth, has joined the Changing Places movement, installing Landmark Products' state-of-the-art disability compliant public restroom.
Changing Places is a revolutionary international project that advocates for all-access public restrooms in major public spaces. These restrooms help transform the lives of people with high support needs, allowing them to visit public spaces for long periods of time. With over 30 years' experience delivering public restrooms around Australia, Landmark Products is the ideal partner for the design, manufacture and installation of Changing Places restrooms.
Changing Places restrooms are a welcome addition to public parks and venues throughout Australia and are becoming a community expectation. In the UK, where the Changing Places movement began, there are already well over 1200 facilities.
Standard Changing Places facilities include:
Overhead automated hoist (constant charge)
Accessible WC including backrest and lift-up grab rails
Two 800mm long horizontal grab rails
Automatically operated adjustable height change table, 1800mm long with safety rail
Sanitising wipe dispenser with shelf over
Integrated wash hand basin
Hand dryer
Rubbish bin
Retractable privacy curtain, wall mounted
Soap dispenser
Clothes hook
Large sling hook
Automatic door control
Accessible shower with instant hot water heater (with Type 2 only)
Commercial vinyl floor
Landmark Products specialises in two standard standalone Changing Places Restroom floor plans: Type 1A (no shower) and Type 2 (with shower). Landmark's designs for these restrooms are modern and spacious, allowing for easy cleaning and maintenance, and provide all the automatic equipment and features that are standard with Changing Places requirements. They also feature standard toilet cubicles that offer the maximum range of public amenities.
All materials used in the construction of Landmark Products' Changing Places restrooms are chosen for durability and cost efficiency.
As with all Landmark products, the full Changing Places facility is delivered onsite in kit-form, ready to be quickly constructed with minimum onsite disruption.
BIBRA LAKE REGIONAL PLAYGROUND
One of the many Changing Places facilities that have been supplied by Landmark Australia-wide is the recently installed Bibra Lake Regional Playground in Perth. The all-access restroom was installed by Landmark as part of the major Council playspace project, which was designed to introduce children of all ages, abilities and disabilities to the natural environment through play.
The 'smart' restroom supplied a high-tech 14-square-metre cubicle specifically designed for those with disabilities and their carers alongside seven additional toilet facilities.
The restroom features:
Two male, two female and two unisex ambulant cubicles
One unisex accessible facility for those using wheelchairs
A service duct running the length of the facility that ensures all cisterns and pipework are protected from vandalism, and allows for easy maintenance
Three external vandal-resistant hand basins, allowing for water bottle refills
The main Changing Places cubicle includes all facilities that are required for people with disabilities, all of which were inspected by a registered assessor to ensure these elements were compliant.
These include:
Height adjustable adult-sized changing bench
Constant charging ceiling track hoist system
Centrally located peninsula toilet
Circulation spaces as defined in the design specifications
Automatic door with a clear opening of 950mm at a minimum
Other fixtures and fittings as detailed in the design specifications
As with all Landmark Changing Places restrooms, the automatic door uses the MLAK system, a master key that fits into specially designed locks, allowing 24/7 access to any registered Changing Places facility across Australia.
Electrical and Lighting
While lighting is typically the only consideration for most restrooms, several of the Changing Places components require electrical connection, such as the height adjustable change table, the ceiling hoist and the automatic door.
The Landmark Design team produced an electrical layout plan as part of the building application drawings as a guide. A separate set-out plan, specifically for all Changing Places components, was also produced.
Installation
The Landmark Installations project team managed the full installation of the Horsham Changing Places facility from start to finish. Landmark Installations oversaw the full range of activities –installations of footings, slab work, delivery of the kit, plumbing works, electrical fitout and final clean-up – using an array of contractors and specialists.
As part of the service, Landmark Products is providing ongoing plumbing maintenance and support through a local sub-contractor.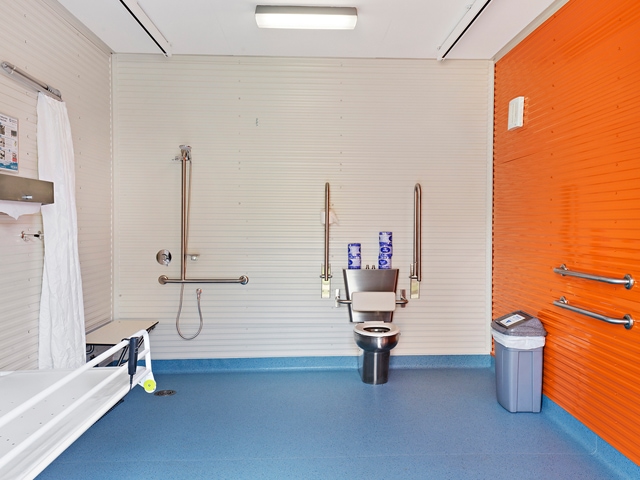 For those who have profound disabilities, the lack of accessible public infrastructure can prevent them from being able to participate in daily community life. The Bibra Lake playground has been designed to be fully accessible to parents and children with a disability.
By installing the new Changing Places restroom to the playground, children who experience these disabilities are able to enjoy the playground for long periods of time and can feel included with their peers.
WHY CHOOSE LANDMARK?
Landmark is one of the only companies in Australia that offers a full-service package, from design and manufacture to delivery and installation. Its products have an extended structural warranty for 20 years, giving you peace of mind when you purchase with them.
Landmark understands the demands placed on public-use products and has thus designed and constructed solutions that are built for long-life from quality materials. Landmark has Australia's largest range of standard open space structures and park furniture, available for almost every specification. Each product is engineered and manufactured to suit individual site specifications that match the location, environment, application and budget.
Landmark is renowned for its prompt and effective service, from the first enquiry right through to project completion. The customer service staff and project consultants are experts in their field and will guide you step-by-step throughout the process.
Landmark structures arrive flat-packed and ready to be assembled with no onsite fabrication needed. Kit-form structures greatly minimise the waste, noise and public and environmental disturbance to the area, and are much quicker to install.