Request
Product Brochure
Fill in your details and we will email you our brochure for this product.
Changing Places
Specialised public restrooms that allow greater freedom for people with severe and profound disabilities and their carers.
The Materials
Steel posts with steel roof frame
Colorbond® XRW Grade steel external wall sheeting and roofing
Maxirib horizontal sheeting for internal walls
Steel clad doors
Finishes
Powder-coated steel posts and roof frame
Fixings
Bolt-below slab posts
Stainless steel anti-vandal fastening system
Stainless steel push pull plates
Access signage
Standard Changing Places inclusions
Overhead automated hoist (with rechargeable option)
Accessible WC including backrest and lift-up grab rails
Two 800mm long horizontal grab rails
Automatically or remote control operated adjustable height change table, 1800mm long with safety rail
Sanitising wipe dispenser with shelf over
Integrated wash hand basin
Hand dryer
Rubbish bin
Retractable privacy curtain, wall mounted
Soap dispenser
Clothes hook
Large sling hook
Automatic door control
Accessible shower with instant hot water heater (with Type 2 only)
Commercial vinyl floor
Other Options
Materials
Option of Coated FC panels or Modern ACM for external walls
ACM for internal walls
Colorbond® Ultra Grade steel internal and external wall sheeting and roofing
Structural rating upgrade beyond N3 (W41)
Standard size variations
Finishes
Two-pack epoxy paint or thermoplastic coatings for steel
Baluster, screening and modesty panels
Fixings
Urinals
Shower and change room facilities
Drawings
Please note: Including a Changing Places room within a multi-cubicle facility as the preferred option for most customers.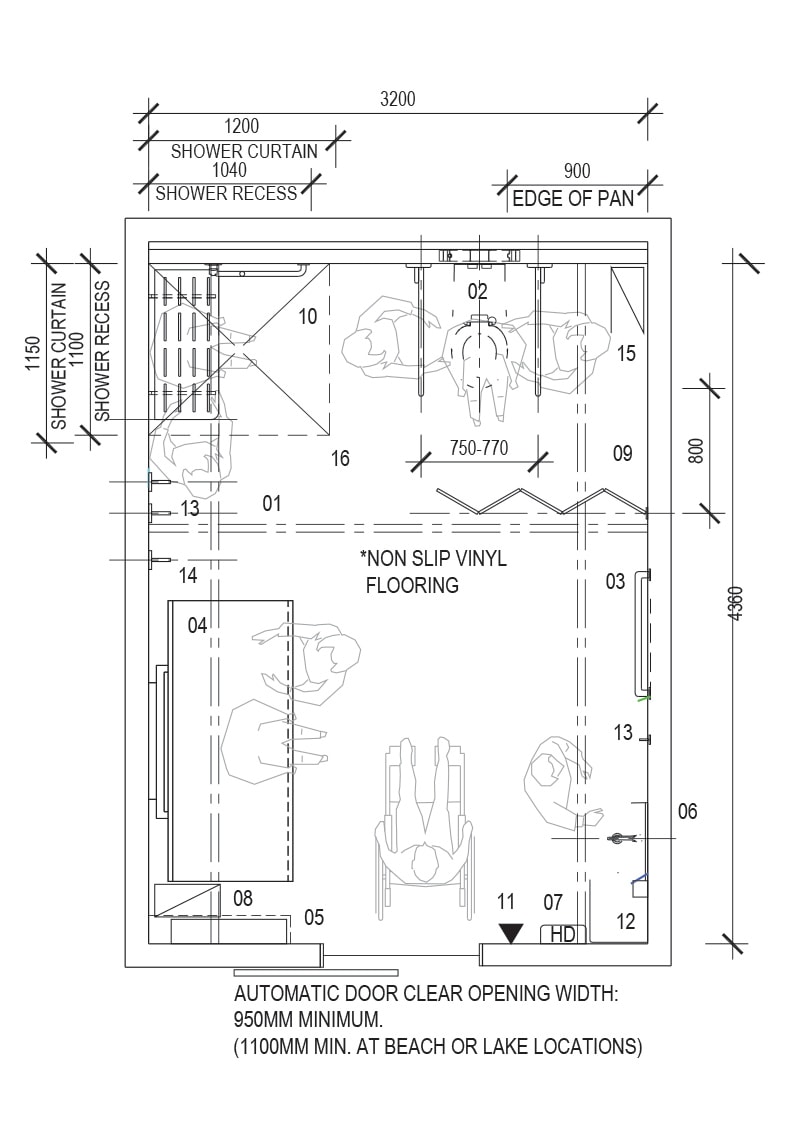 Video