As part of Cootamundra's Parker Street Beautification Project, Landmark Products installed 4x Urban Canopee Structures with specifically designed and manufactured Modified Semi Circle Woodgrove Benches. The Canopees have highly fragrant evergreen climber white jasmine (Jasminum polyanthum) which will cover the "grid shell" patterns in approximately 2 to 3 years.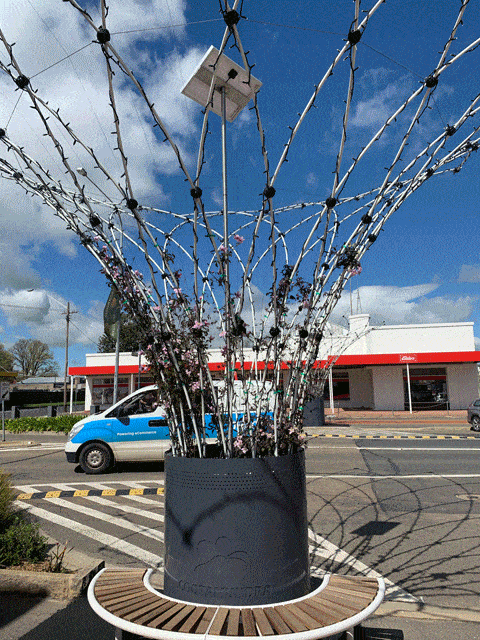 Features & Benefits:
Creates a green canopy over public spaces, roofs and facades
Creates aesthetically pleasing shaded areas combating heat island effects
Re-establishes urban biodiversity in locations where it has not been possible
Optimisation of water storage and use, and improves air quality
Enhances quality of life whilst making urban green asset management easy
Requires minimal floor space, modular, autonomous, freestanding, relocatable and with very little to no impact on the environment
Structures allow for perfect architectural integration
Fairy lights were also installed on the structures to tie in with the lights already established in Parker Street's trees.
Woodgrove Bench
Bolt-Down or In-Ground Attachment
Also Available with Armrests
Delivered Flat Packed
Hot Dipped Galvanised and Powder Coated Steel Frame with Mild Steel Strengthening Brace
Hardwood Timber Slats
TESTIMONIAL
What made you decide to install the Canopees?
We wanted to have a unique feature at both ends of the main street in Cootamundra that would act as an entrance statement and be visually stimulating. This would then hopefully encourage people driving through the town to stop and have a look around, grab a coffee or a bite to eat, go shopping etc.
The Canopees make a strong impact and with the vines growing nicely, they continue to provide more impact as they develop. The addition of fairy lights have made a huge visual impact at night time with the full structure lit up beautifully.

Would you recommend the use of Canopees to other customers?
We certainly would. We asked for additional seating to be installed around half of the base and that has worked very well. Communication has been fantastic and the installation process was great.

Have you received any feedback from the community?
Most of the community love them. When the vines came in to flower we got a lot of positive feedback. We believe when they plants have coverage of the structure, the visual impact will be extremely impressive.
Stephen Lowe
Open Space Coordinator
Cootamundra-Gundagai Regional Council